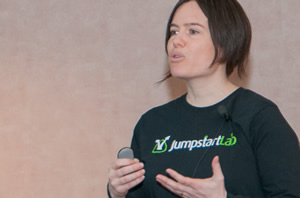 We are happy to open the call for papers of ConFoo Vancouver 2017! Proposals can be submitted until May 8th. After that, the advisors will review all the proposals and publish the list of talks on June 5th.
Talks are 35 minutes for the topic and 10 minutes for Q&A, for a total of 45 minutes. Check out our list of themes.
We will cover travel and hotel for the speakers who require it. To remain within our budget, we expect traveling speakers to give 2 talks. This means that you should submit even more talks to give us the flexibility in our choices.
How to get accepted
We prepared this detailed guide to help you write your proposals. We'll be looking at each speaker's knowledge and experience, so make sure to point us to your speaking experience when you submit. You can even prepare a 1-minute video with the intro to your talk. We also consider attitude and an open mind as important factors in assessing the speakers, since we're trying to create a friendly atmosphere conducive to learning.
We will also gauge the audience's interest for a topic through the voting system. This year, we are deliberately omitting names and randomizing the proposals to reduce bias. This is just one factor and higher ratings will not guarantee selection, just like low ratings do not mean that we won't consider your proposal.
We don't give talk slots in exchange for a sponsorship. Our content is completely neutral. We don't accept any sales pitches. If you want to speak, your will have to submit during the call for papers and will be treated on equal footing with other candidates.
Blind bird price
Until the talks are picked, the price for the tickets will be at its lowest. Once the talks are announced, prices will go up. This is the perfect time to register. Check out our last conference to get an idea of what to expect.
Help us promote!
This is a non-profit, community conference. We rely on the community to help us promoting the event. Let people know that we are coming to Vancouver and that we are calling for papers! You can use these site badges.