We're looking for people who can make a minimum 1 day commitment. Those who volunteer on December 3 will be helping with setup for the conference. Those who volunteer from December 4-6 will be stationed in the speaker sessions and around the conference venue to help with attendee requests.
We will prioritize full-time computer science students, but everyone is welcome to apply. E-mail mpaquin [at] confoo.ca
Here are some of the things you'll gain by getting involved:
Attend presentations on new, exciting technologies given by international industry experts.
Meet and network with members of the web community, forward-thinking tech companies, and our international speakers.
Enjoy all the perks of attending the conference: delicious food throughout the day, free t-shirts, and cool swag.
Your evening meal is on us.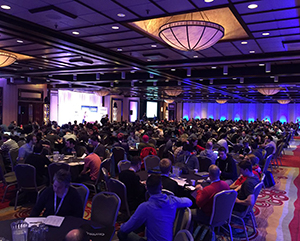 Vous avez une startup? Vous êtes étudiant et souhaitez participer à ConFoo mais vous n'en avez pas les moyens ? C'est votre jour de chance !
Nous offrons un billet pour l'événement de votre choix aux 2000e et 2500e abonnés au compte de ConFoo.
Et en plus de cela, Yann Larrivée, fondateur de ConFoo, offrira un billet au 1000e abonné de son compte personnel.
Suivez-nous sur Twitter @ConFooCA et @ylarrivee pour avoir une chance de gagner !
C'est notre manière de remercier notre communauté après 15 ans de réussite !
Si vous n'êtes pas prêt à tenter votre chance, vous économiser $320 en vous inscrivant à l'événement de Montréal avant vendredi 13 octobre minuit
Nous avons hâte de vous rencontrer lors de cet événement unique pour la communauté des développeurs !