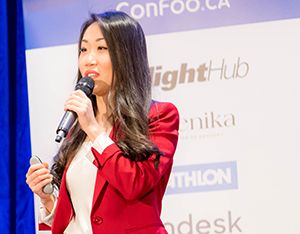 We are excited to open the call for papers of ConFoo Montreal 2022!
This year marks the 20th edition of ConFoo! This is definitely a milestone and we are looking for the best stories to highlight for the occasion!
ConFoo is a multi-technology conference for developers in Canada with international speakers. After a 100% virtual edition in 2021, we are working on a hybrid edition with 2 days in person (with limited seats) and 2 days virtually. The event will be held from February 22 to 25, 2022 at Montréal Bonaventure Hotel and online.
ConFoo is a multi-technology conference for developers in Canada with international speakers.
If you have great knowledge or interesting experiences in the software development field, we want to hear from you! Submit your ideas today and become one of our speakers for ConFoo's next edition!
When to apply?
You have until October 3rd to submit a talk. Once the submissions are closed, our selection committee will review each and every proposal and proceed with the selection. The list of selected talks will be published on October31st.
What to prepare?
ConFoo talks are 45 minutes long: 35 minutes for the topic, plus a 10 minutes Q&A session. Check out the list of topics we are interested in. We encourage you to submit multiple talks!
How to get accepted?
You can go through our detailed guidelines to write your proposals. We also highly recommend to new speakers to prepare a 1-minute video with the intro to your talk so we can better assess your abilities.
More questions on the hybrid edition?
We are working hard on providing you with the best possible experience of ConFoo despite the current situation. We are looking at a 4-days hybrid event with 2 days in person and 2 days virtually. When schedule is finalized you will be able to choose your option which date you want to participate. A vaccination proof will be required to access the in person event. These guidelines are subject to change according to public health safety recommendations.
Interested in attending ConFoo 2022?
Tickets sell fast, so don't wait and get them now. Plus, as a token of gratitude for being present since the beginning of ConFoo, we are offering the first 20 persons to register for next year's edition a 345$ discount per ticket if you buy them before October 14th! Checkout last year talks to see why you don't want to miss next year's edition!
The ConFoo team is proud to unveil the 2021 edition of its flagship event dedicated to developers in Canada. This year, ConFoo is going 100% virtual , meaning you can follow different sessions simultaneously.
From February 24-26, get access to:
130 presentations from +100 speakers
3 online training sessions available before the official start of the event (February 22-23)
a fully recorded version of the 3-days event, available during one year.
Highlights from the 2021 edition include:
Open source projects updates: The pandemic has increased the development of open source communities and led to the release of key open source projects such as PHP 8.0 and MySQL 8.0.
Architecture and Design Patterns: learn about software refactoring and micro-services resiliency and NoSQL Design patterns
Career and management issues: in addition to all our more technical sessions, come and listen to career advice from experts and regain control over your professional journey.
View top 20 sessions
Tickets are available at $425 for the 3 days and include the equivalent of a year long professional training program. Hurry up, there are only a few weeks left before the event!
Buy your tickets now.