We're looking for people who can make a minimum 1 day commitment. Those who volunteer on December 3 will be helping with setup for the conference. Those who volunteer from December 4-6 will be stationed in the speaker sessions and around the conference venue to help with attendee requests.
We will prioritize full-time computer science students, but everyone is welcome to apply. E-mail mpaquin [at] confoo.ca
Here are some of the things you'll gain by getting involved:
Attend presentations on new, exciting technologies given by international industry experts.
Meet and network with members of the web community, forward-thinking tech companies, and our international speakers.
Enjoy all the perks of attending the conference: delicious food throughout the day, free t-shirts, and cool swag.
Your evening meal is on us.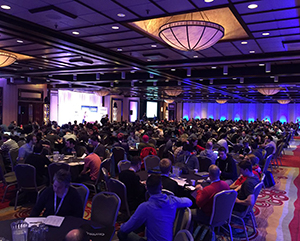 Are you a startup or a student and would like to attend ConFoo, but can't afford it? Here is your chance
At 2000, and 2500 followers, we will give away one ticket of your choice.
On top of it, Yann Larrivée, the founder of ConFoo, will give one ticket to one of its followers once he reaches 1000.
Follow us on Twitter @ConFooCA and @ylarrivee for a chance to win.
That is our way to say thank you to the community for 15 years of success!
You don't want to take the chance? Register for Montréal before Friday, October 13 at midnight and save $320
We are looking forward to seeing you for this unique event for the developer community.