After the outstanding success of this year's edition and more than 620 attendees from all over the world, we are very proud to announce ConFoo Montreal 2019!
Next year's edition of ConFoo Montreal, the gold standard of web development conferences, will take place from March 13th to March 15th 2019, at the Hotel Bonaventure in beautiful downtown Montreal. As always, we'll have a stellar lineup of renown international speakers, new, innovative and surprising topics and, of course, great off-conference social gatherings.
Tickets are already available and great savings can be made by getting your tickets now. The very first 10 people buying their tickets for ConFoo Montreal 2019 will get 370$ discount on each ticket, that's a 38% discount from the official price. Click on this link now to be one of the 10 lucky attendees !
Check out this year's keynotes We had great keynotes this year and you can check them out on Youtube: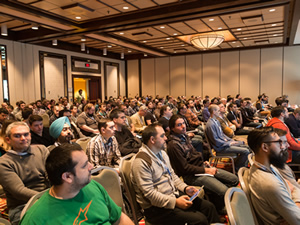 There is still a whole month before the conference and 77% of the tickets were already sold. With the discount ending tomorrow, that number will quickly get even higher.
Don't wait too long to decide and secure your place now. We have been sold out many times in the past. ConFoo is the conference that every web developer should attend, whether you're just starting out or are a web veteran.