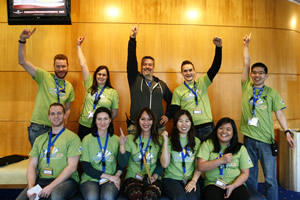 We're back!
Last year's premiere ConFoo Vancouver was a such a success in content, venue, and attendee satisfaction that we're doing it again in 2017. Save December 4 – 6 for wall-to-wall presentations on the latest concepts. Vancouver's Sheraton Wall Centre is the place to be for developers to learn what's new and to rub elbows with new friends and old.
If you're passionate about a particular web development topic and would like to present in front of your colleagues, the call for papers will be open starting on April 10. Hundreds of proposals flood in, so start thinking now. And get the newsletter as a reminder, because we announce the CFP and details exclusively there.
Also check out the Montreal conference.
Tickets are already available for ConFoo Vancouver 2017, and our discount launch price runs until May 29. You can save $300, so don't wait!
We're looking for people who can make a minimum 1 day commitment. Those who volunteer on March 6-7 will be helping with setup for the conference. Those who volunteer from March 8-10 will be stationed in the speaker sessions and around the conference venue to help with attendee requests.
We will prioritize full-time computer science students, but everyone is welcome to apply. E-mail mpaquin [at] confoo.ca
Here are some of the things you'll gain by getting involved:
Attend presentations on new, exciting technologies given by international industry experts.
Meet and network with members of the web community, forward-thinking tech companies, and our international speakers.
Enjoy all the perks of attending the conference: delicious food throughout the day, free t-shirts, and cool swag.
Your evening meal is on us.