The call for papers closed with an astonishing 768 proposals this year. Here's the comparison with previous editions: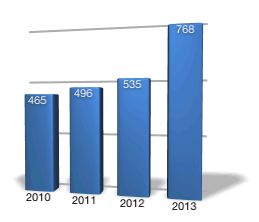 The public votes will remain open for an extra week to give a fair chance to those who submitted close to the deadline.
There is still time to get
discount
tickets. Buy them until October 14.
We would like to thank everyone who submitted proposals as well as the advisors who really helped us promote ConFoo. We had proposals from 37 different countries. 84% of proposals are in English.
Australia
Austria
Belgium
Brazil
Cameroon
Canada
China
Cuba
Czech Republic
France
Germany
India
Indonesia
Ireland
Israel
Italy
Luxembourg
Malaysia
Mexico
Nepal
The Netherlands
New Zealand
Norway
Paraguay
Poland
Russian Federation
Senegal
Serbia
Singapore
South Africa
Spain
Sweden
Switzerland
Ukraine
United Arab Emirates
United Kingdom
Unites States
In the next three weeks, the team will read all the proposals. We expect competition to be fierce. Talks will be selected based on a multitude of factors, including proposal and speaker quality, public votes, subject uniqueness, and travel costs, to name but a few.
The lineup will be announced on October 15. At the same time, e-mails will be sent to all candidates, whether their talks were accepted or not. A week after that, on October 22, the timetable will be published.