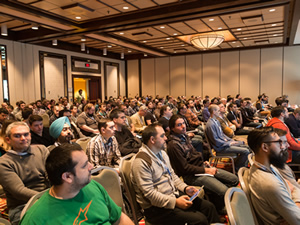 There is still a whole month before the conference and 77% of the tickets were already sold. With the discount ending tomorrow, that number will quickly get even higher.
Don't wait too long to decide and secure your place now. We have been sold out many times in the past. ConFoo is the conference that every web developer should attend, whether you're just starting out or are a web veteran.
We're looking for people who can make a minimum 1 day commitment. Those who volunteer on March 5-6 will be helping with setup for the conference. Those who volunteer from March 7-9 will be stationed in the speaker sessions and around the conference venue to help with attendee requests.
We will prioritize full-time computer science students, but everyone is welcome to apply. E-mail mpaquin [at] confoo.ca
Here are some of the things you'll gain by getting involved:
Attend presentations on new, exciting technologies given by international industry experts.
Meet and network with members of the web community, forward-thinking tech companies, and our international speakers.
Enjoy all the perks of attending the conference: delicious food throughout the day, free t-shirts, and cool swag.
Your evening meal is on us.