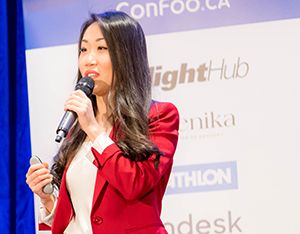 Want to be part of one of the largest multi-technology events in America? ConFoo is gearing up for its 22nd edition, from February 21 to 23, at the Hotel Bonaventure in Montreal. As usual, we looking for a large variety of presentations on how to develop and build your career to the next level.
Are you passionate about software development and tech? Do you want to share your expertise with hundreds of experts just like you? We are currently looking for speakers ready to present their knowledge during our 3-day event.
What awaits you? Our conferences are set up to be both dynamic and educational. We usually recommend a 45-minute format, including a 10-minute Q&A session at the end. A list of our favorite subjects is available on our website if you need inspiration.
As an official speaker, you will have access to all the presentations and activities of the event: networking cocktails, an interactive lounge and gourmet meals are among the many advantages you can enjoy at ConFoo. You will also take part in a VIP banquet with members of our organizing committee, sponsors, and other speakers just like you.
If you live outside Quebec, know that transport and accommodation fees will be paid by us. But in that case, we kindly ask you to offer 2 presentations during the event in exchange.
How to apply
We recommend that you carefully read the detailed guidelines on how to write your proposal. If it is your first experience as a speaker at ConFoo, we also recommend that you send us a short video of the first few minutes of your presentation; so that we can appreciate your communication skills and get to know you better.
You have until September 23, 2023, to submit your proposal. Once the submissions are closed, our selection committee will evaluate every application received to organize the best experience for our participants! The selected conferences will be announced on October 20.
Are you already looking to book your ConFoo experience?
Hurry up because tickets are going fast! Reserve now and save up to $400 on your registration. Valid until September 24
After last year strong come back with 720 attendees who where very eager to come back to in person to learn new skills and improve their development techniques and catch up with the community
To show our gratitude, we are happy to announce, not only the opening of registration for 2024, both held in person, but also a massive reduction of prices!
The 2024 edition will be held in Montreal at the Hotel Bonaventure from February 21 to 23, 2024.
Hurry up, we are offering the first 50 persons who register may 20th will get a discount of 550$ per ticket. On top of that you will get a 1 year access to the 2021-2023 recordings for free. Checkout last year's talks to see what to expect for next year's edition!
Never Attended ConFoo ?
It's never too late to change. Here is why you need to attend the next editions.
It is THE flagship event when it comes to web developing in Canada.
The upcoming editions will be held in person.
You will get tons of inspiration and insight Presentations by popular international speakers.
You will meet great people.