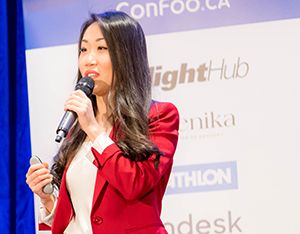 We are excited to open the call for papers of ConFoo Montreal 2023! "Forward, fast forward"
This year marks the return of ConFoo in a full in-person mode, and we are really excited to see you all! Are you ready to move forward, fast forward, and build it like never before?? To present your experience or ideas in front of a full audience? Then, we are looking for you!
ConFoo is a multi-technology conference for developers in Canada with international speakers. After a 100% virtual edition in 2021, a hybrid edition in 2022, we are moving forward now! The event will be held from February 22 to 24, 2023 at Hotel Bonaventure in Montréal.
If you have great knowledge or interesting experiences in the software development field, we want to hear from you! Submit your ideas today and become one of our speakers for ConFoo's next edition!
When to apply?
You have until September 23, 2022 to submit a talk. Once the submissions are closed, our selection committee will review each and every proposal and proceed with the selection.
What to prepare?
ConFoo talks are 45 minutes long: 35 minutes for the topic, plus a 10 minutes Q&A session. Check out the list of topics we are interested in. We encourage you to submit multiple talks!
How to get accepted?
You can go through our detailed guidelines to write your proposals. We also highly recommend to new speakers to prepare a 1-minute video with the intro to your talk so we can better assess your abilities.
Interested in attending ConFoo Montreal 2023?
Tickets sell fast, so don't wait and get them now. Plus, you save 375$ per ticket if you buy them before October 17th! Checkout last year talks to see why you don't want to miss next year's edition!
The last two year's editions were special, that's the least we can say! We went through virtual and hybrid editions, we navigated through exceptional circumstances, and yet, you never let us down. Your interest and motivation to always learn more and develop new techniques and skills never wavered.
To show our gratitude, we are happy to announce, not only the opening of registration for ConFoo 2023 and 2024, both held in person, but also a massive reduction of prices!
The 2023 edition will be held from February 22 to 24, 2023.
The 2024 edition will be held from February 21 to 23, 2024.
Hurry up, we are offering the first 25 persons to register for 2023 or 2024 editions a $450 discount per ticket if you buy them before June 20th and access to the 2020 and 2021 recordings for free! Checkout last year's talks to see what to expect for next year's edition!
Never Attended ConFoo ?
It's never too late to change. Here is why you need to attend the next editions.
It is THE flagship event when it comes to web developing in Canada
The upcoming editions will be held in person
You will get tons of inspiration and insight Presentations by popular international speakers
You will meet great people