We're looking for people who can make a minimum 1 day commitment. Those who volunteer on February 24-25 will be helping with setup for the conference. Those who volunteer from February 26-28 will be stationed in the speaker sessions and around the conference venue to help with attendee requests.
We will prioritize full-time computer science students, but everyone is welcome to apply.
Here are some of the things you'll gain by getting involved:
Attend presentations on new, exciting technologies given by international industry experts.
Meet and network with members of the web community, forward-thinking tech companies, and our international speakers.
Enjoy all the perks of attending the conference: delicious food throughout the day, free t-shirts, and cool swag.
Your evening meal is on us.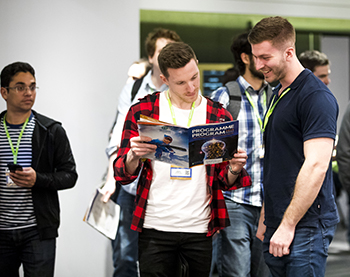 The ConFoo team is very proud to announce the complete list of speakers of its next edition. After carefully reviewing more than 940 proposals, we finally selected 90 speakers and 156 talks covering 8 major topics: PHP, Java, Security, Quality, Performance, Javascript, DevOps and AI.
Here are a few highly expected talks :
Next year's edition of ConFoo Montreal, the reference in development conferences, will take place from February 26th to February 28th 2020, at the Hotel Bonaventure in Montreal.
Tickets are already available and the next 30 people buying their tickets for ConFoo Montreal 2020 will get a 220$ discount on each ticket. Click on this link now to buy your tickets!