We're looking for people who can make a minimum 1 day commitment. Those who volunteer on March 11-12 will be helping with setup for the conference. Those who volunteer from March 13-15 will be stationed in the speaker sessions and around the conference venue to help with attendee requests.
We will prioritize full-time computer science students, but everyone is welcome to apply. E-mail mpaquin [at] confoo.ca
Here are some of the things you'll gain by getting involved:
Attend presentations on new, exciting technologies given by international industry experts.
Meet and network with members of the web community, forward-thinking tech companies, and our international speakers.
Enjoy all the perks of attending the conference: delicious food throughout the day, free t-shirts, and cool swag.
Your evening meal is on us.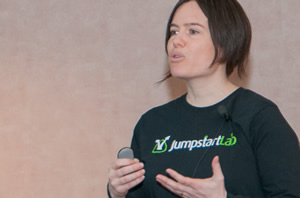 We are happy to open the call for papers of ConFoo Montreal 2019!
ConFoo is the gold standard of software development conferences. The 2019 edition will take place from March 13th to March 15th 2019, at the Hotel Bonaventure in beautiful downtown Montreal. As always, we'll have a stellar lineup of renown international speakers, new, innovative and surprising topics as well as great off-conference social gatherings.
If you have great knowledge or interesting experiences in the software development field, we want to hear from you! Submit your ideas today and become one of our speaker for Confoo's next edition!
When to apply?
You have until September 24th to submit a talk. Once the submissions are closed, our selection committee will review each and every proposal and proceed with the selection. The list of selected talks will be published on October 21th.
What to prepare?
ConFoo talks are 45 minutes long: 35 minutes for the topic, plus a 10 minutes Q&A session. Check out the list of topics we are interested in. We encourage you to submit multiple talks!
What to expect as a speaker
As a speaker, you get full access to all presentations and activities for the duration of the event. And we do have many activities for you, from the day you arrive to the day you leave: drinks, dinners, parties, etc. You also get invited to a private banquet with all speakers, sponsors and members of the organization committee.
If you live outside Québec, we will cover your travel and accommodation expenses. We do request that you do at least 2 different talks. Please submit as many proposals as possible to give us more flexibility.
How to get accepted?
You can go through our detailed guidelines to write your proposals. We also highly recommend to new speakers to prepare a 1-minute video with the intro to your talk so we can better assess your abilities.
Interested in attending ConFoo Montreal 2019?
Tickets sell fast, so don't wait and get them now. Plus, you save 320$ per ticket if you buy them before October 14th! Checkout last year talks to see why you don't want to miss next year's edition!